BONUS $850 SIDCHROME TOOL PACK!
Offer ends December 9, 2023
The Raptor XD is the ideal zero-turn for homeowners with up to five acres of property. Powered by a strong 23hp Kawasaki engine and with a tough 48 inch fabricated cutting deck.
Like all Raptors, we've spent decades and thousands of hours perfecting our durable fabricated decks that provide a crisp, clean cut-quality. Raptor XDs are backed by a 3yr / 300hr limited warranty.
48" Cutting Width
2.9 Acres per Hour
23HP Kawasaki Engine
3 Year, 300 Hour Commercial Warranty



Introducing the Hustler Raptor XD 48 zero turn mower - a tough reliable machine that takes the effort out of lawn care!
This mower is equipped with a powerful 23HP Kawasaki V-Twin engine, making mowing your lawn a breeze.
With a comfortable high-back seat and padded armrests, you can mow for extended periods without feeling fatigued.
The foot-operated deck lift system allows you to easily adjust the cutting height while remaining seated, making it effortless to adapt to changes in terrain and grass length.
The Raptor XD 48 offers unparalleled manoeuvrability thanks to its zero turn radius. You can easily navigate around obstacles and turn in tight spaces, making it ideal for both residential and small commercial areas. The intuitive control panel puts all the necessary functions within reach, allowing you to focus on the task at hand and complete the job quickly.
Built with a sturdy steel frame and tough 48 inch fabricated cutting deck, the Hustler Raptor XD 48 is designed to last.
Its removable foot pan provides easy access to the belts and pulleys, making maintenance a breeze.
Experience the difference of the Hustler Raptor XD 48 zero turn mower, and enjoy a more comfortable and effortless lawn care experience!
* Images are for illustration purposes only, and may depict different models from the range and/or foreign market models with different specifications.
Cutting Equipment & Features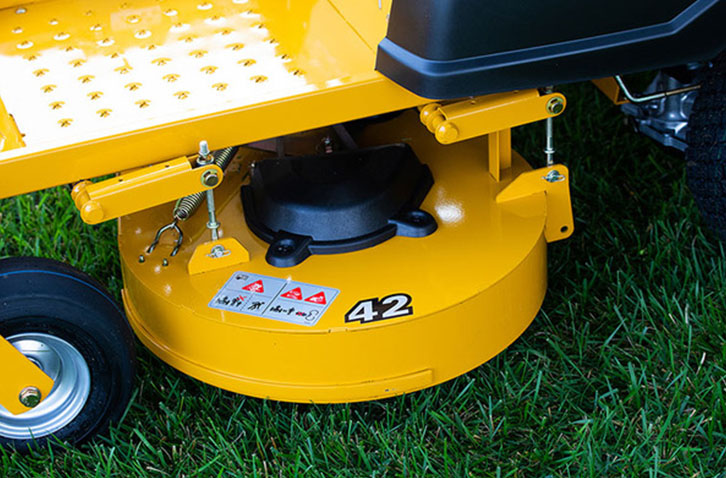 Deck Width & Construction
48 Inch 11 Guage Fabricated Cutting Deck
Blades & PTO
3 Blades with electric PTO blade engagement
Spindles
Aluminum with 7 gauge spindle mounts, 1" shaft and double lip sealed ball bearings
Cutting Height & Adjustment
1.5" - 4.5" cutting range with foot assisted deck height adjustment
Optional Extras
Optional Mulch Kit, Optional Catcher Kit
Productivity & Capability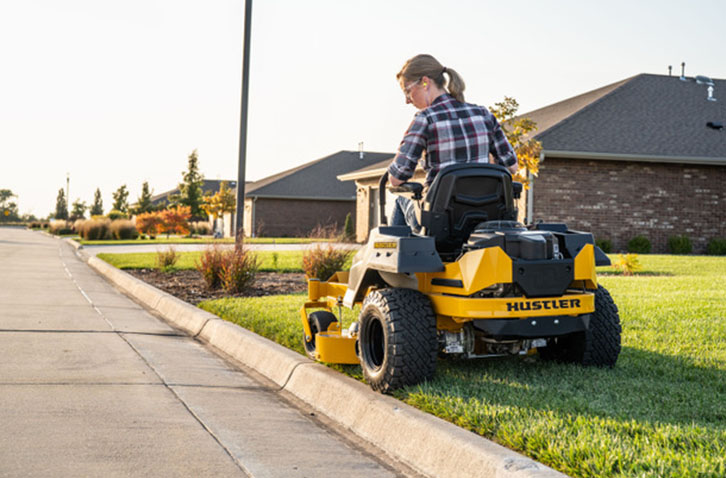 Ground Speed
12 Km/h Ground Speed
Acres per hour
2.9 Acres per hour (Rating based on 80% efficiency to allow for real world mowing conditions)
Slope Capability
15 Degrees
Power & Drive Train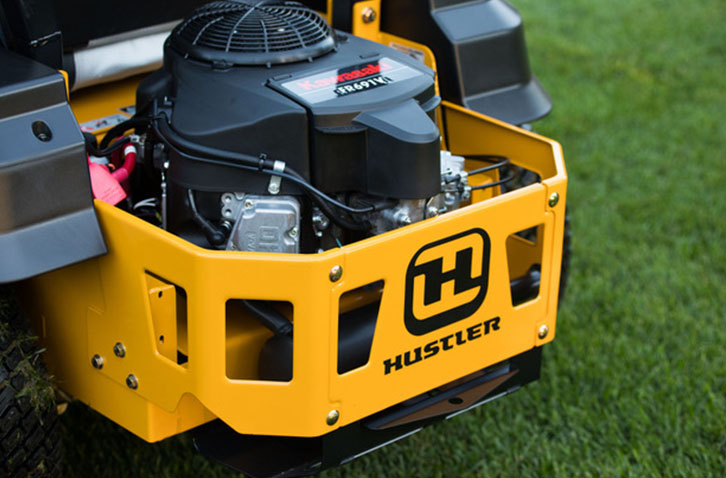 Engine Type & Specifications
23HP Kawasaki FR691V Engine. Air cooled. 726cc.
Engine Warranty
3 Year Engine Warranty
Transmission Type & Specifications
Dual Hydro Gear ZT2800 Hydro Transmissions
Build & Chassis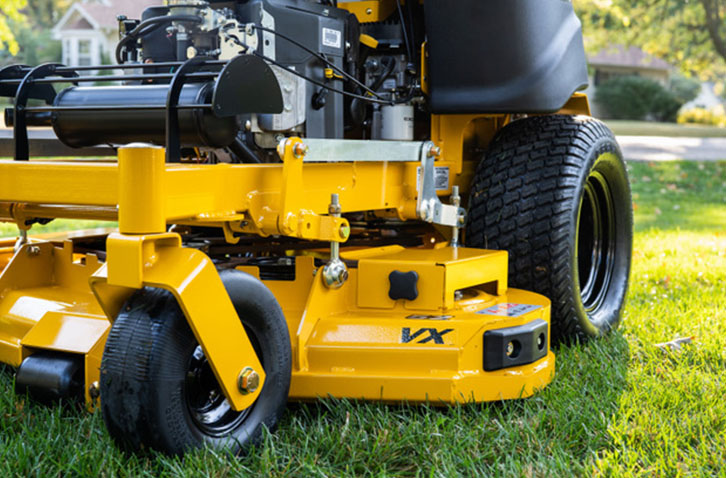 Country of Manufacture
Made in the USA
Chassis Construction
1.5" x 3" Welded Tubular Steel Frame
Rear Wheels & Tyres
20" x 8" Rear Tyres
Front Wheels, Tyres & Castors
13" x 6.5" Front Tyres
Comfort & Convenience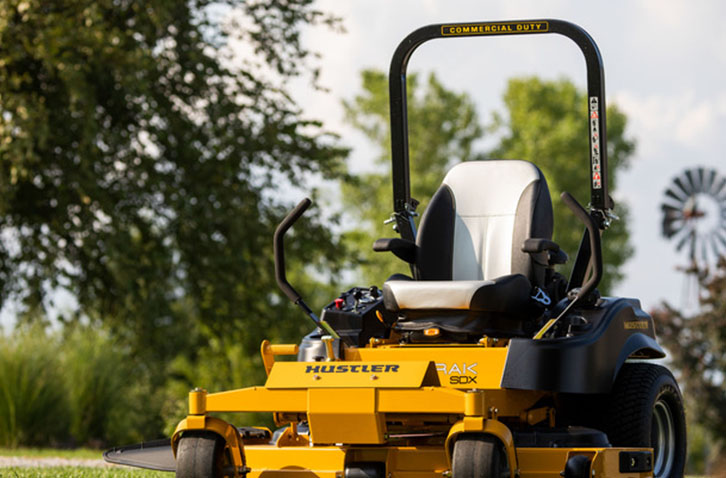 Seat Type
Bolstered High Back Seat with Armrests
Console Features
Cup Holder
Park Brake
Automatic Park Brake
Suspension
Optional Flex Fork Front Suspension
Maintenance Access
Open rear design for easy engine maintenance
Tow Hitch
Optional Tow Hitch
Dimensions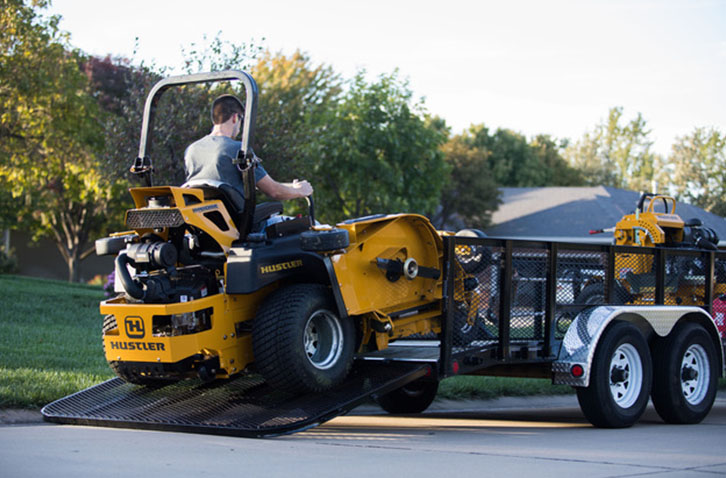 Minimum Trailer Size
5 ft wide, 6 ft Long
Width (Chute up)
1334 mm (Chute up)
Height (ROPS up & down)
1110 mm
Warranty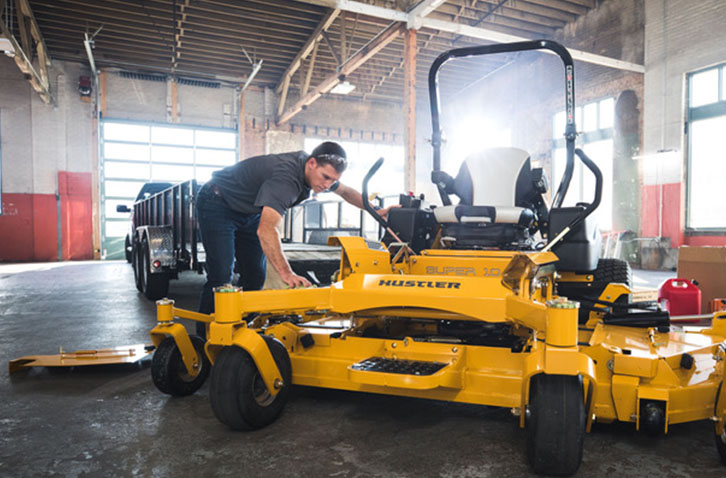 Residential Warranty
3 Year / 300 Hr Domestic warranty
Commercial Warranty
3 Year / 300 Hr Commercial Warranty
Disclaimer
Specifications subject to change without notice and without incurring obligation. Images for illustration purposes only, and may depict different models from the range and/or foreign market models with different specifications.
Fabricated Cutting Deck
All Hustler mowers feature a welded steel fabricated cutting deck. No thin stamped decks here. With deck rollers to greatly reduce the chance of heavy impacts over bumpy terrain, Hustler cutting decks are built to last a lifetime.
SmoothTrak Steering
Glide around obstacles with ease and keep on the straight and narrow. Standard on all Hustler mowers, SmoothTrak Steering reduces jerkiness and makes precises steering inputs easier than ever. Mow like a pro with Hustler!
Check items to add to the cart or