Designed for efficient grounds maintenance, Hustler commercial mowers have productivity, reliability and all-day comfort at their core.
If your current zero turn mower isn't comfortable, productive or reliable, it's not a Hustler. And it's time to upgrade!
Whether you're mowing a park, roadside, footy oval or school, Hustler gets it done quickly and efficiently.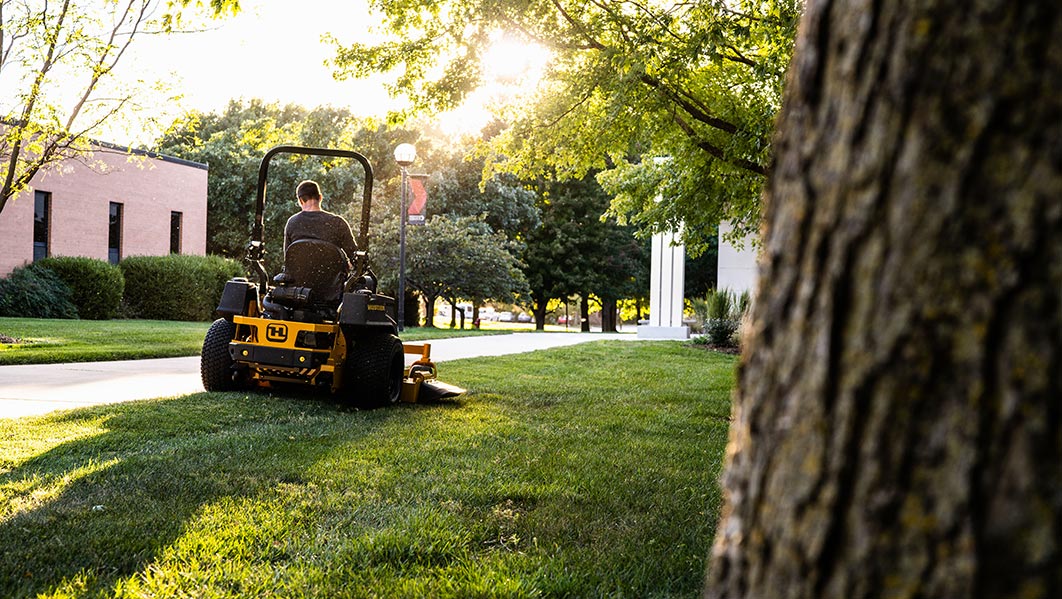 PRODUCTIVITY
Power & Speed
Hustler commercial mowers are exclusively powered by commercial grade Kawasaki V-Twin engines. The best in the business. With ample power for tough mowing, high ground speed, and reliability features built in, these engines are fit for purpose, and won't quit.
The high ground speed of Hustler mowers makes them ideal for local council mowing crews with big public spaces to cover. Get in and get out on the same day and move onto the next job!
Cutting Deck Options
Hustler commercial mowers have deck options ranging from 48 inches up to a massive 104 inch cutting width, allowing for faster and more efficient mowing of large areas, such as parks and sports fields. 104 inch deck models come with folding hydraulic deck wings, allowing for a convenient transport width of 80 inches. All at the push of a button from the driver's seat.
The VX4 deck fitted to commercial Hustler models offers superior toughness, vacuum airflow and efficient high-volume discharge. This allows for fast clearing of long grass and a cleaner cut at higher speed compared to a regular cutting deck. The front baffles on VX4 decks are adjustable allowing for optimum cutting performance in different conditions and with different grass varieties.
Fuel Capacity
Hustler commercial mowers have large fuel tanks up to 45 Litres, allowing for long mowing sessions without stepping off to refuel. Spend more time mowing and less time filling!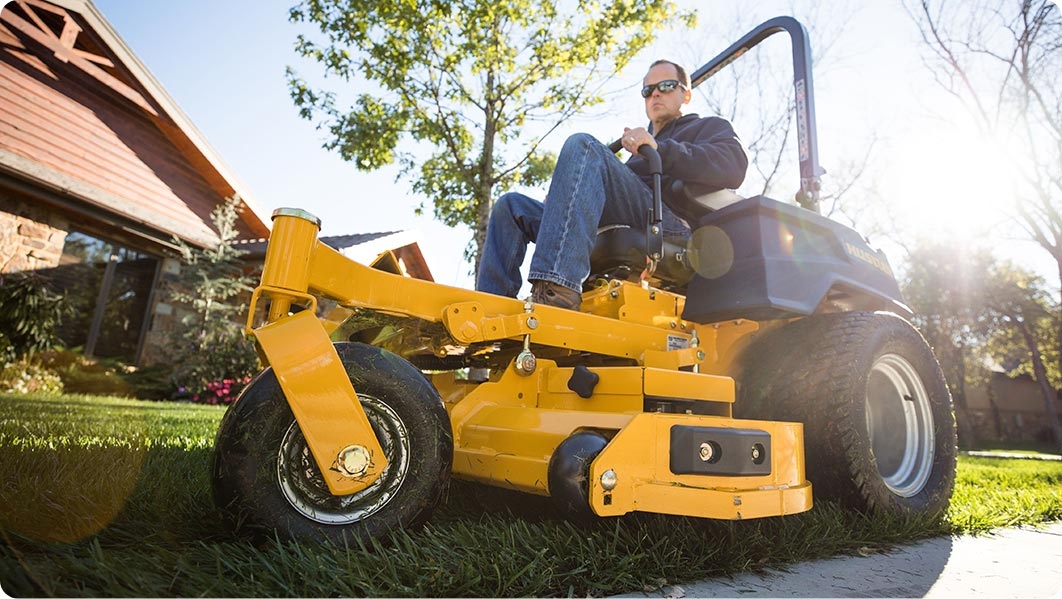 RELIABILITY
Construction
Hustler mowers are constructed with heavy grade materials all round, designed to withstand heavy constant operation even in hot weather, making them ideal for the rigorous demands of mowing contractors.
All Hustler mowers come with a fabricated cutting deck, constructed by welding thick sheets of steel together rather than stamping thin steel into shape. Hustler commercial fabricated decks are made with 7 gauge steel, with 7 gauge reinforcements and spindle mounts
Heavy duty spindles, standard on Hustler commercial mowers feature a cast iron housing with a thick steel innner spindle that is greasable for long term smooth operation. Debris covers on the spindles and blade bolt impact shields below ensure these important components are well protected and long lasting.
Transmission Cooling
Hyperdrive models feature unique and superior transmission oil cooling, ensuring continuous reliable operation, even when mowing all day on a long hot Summer scorcher!
A huge 11 litre oil resevoir, high capacity aluminium oil cooler, oil fan, and hot oil shuttle lines all help to regulate temperature and keep hydraullic oil cooler when the going gets hot.
Parker premium TG Extra high torque wheel motors provide industrial grade strength, performance and reliability.
Warranty
Hustler commercial mowers have the best commercial application warranties in the business. With no hour limit for the first two years, and five year / 1200hr warranties across the commercial range, you can be confident your Hustler will front up day after day and year after year, ready to work hard.
BUILT AROUND YOU
All Day Comfort
You've got the best seat in the house with Hustler. Hustler commercial mowers feature adjustable suspension seating. Dial in your comfort level and slide back or forward to get the most comfortable seating position. Step off at the end of a long shift as fresh as a daisy and ready to go again.
Plenty of legroom, an oversized cup holder, USB charging port, non-slip steps for getting on and off. If you can think of a way to make your day in the seat more comfortable, you can bet that Hustler has thought of it too. Since building the world's first zero turn mower back in 1964, Hustler has been improving the formula with operator comfort at its core ever since.
Safety First
Hustler's aim is that everyone gets back to base in one piece. A roll over protection bar is featured across the commercial range, while the wide tyres and low centre of gravity combine to give Hustler mowers safe, stable and confident handling on slopes up to fifteen degrees.
With rear discharge options Hustler has you covered for pedestrian safety when mowing in public areas, such as parks, ovals and roadsides. No more stray debris flying out the side of your cutting deck means no more second guessing your mowing routes, and safer more confident mowing in public areas.
BOOK AN ONSITE DEMO
We'll come to you.
Gather the troops and we'll come to you with one or more Hustler commercial mowers for you to test drive and run through their paces in the environment they will be working in.
To book a demo simply click the link below to find the Hustler mower you like in our commercial range and submit an enquiry directly from the product page. Or if you need some advice on the right Hustler for your grounds maintenance application, simply jump on our dealer locator and reach out to your nearest Hustler specialist dealer.
Find a Hustler Mower
Research models and book an in-store or on-site demo.

Find a Hustler Dealer
Talk to an expert about your specific mowing requirements.